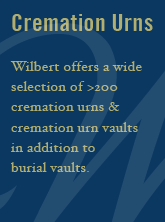 Personalization
Wilbert offers multiple ways to personalize a burial vault or urn vault with words, symbols, and images that speak of a singular spirit. Your loved one had a unique personality. The selections you make for the visitation and service should communicate that singular spirit. These choices ensure your loved one's memory is remembered for generations to come.
Alberta Wilbert Sales has been committed to providing exceptional service that goes above and beyond the call of duty for over 40 years. Whether it's helping out by Paul bearing or setting up extra greens to hide unsightly mounds we are dedicated to providing the same first class service every time we serve you.
Set Up
There are two set ups. The beautiful
Wilbert Way Set Up allows the family to view the vault cover on a Wilbert way lowering device before the vault is sealed above ground
by our caring and respectful CSR's.
We also have a drop in set up were the base of the vault is placed into the grave before the service arrives.
A casket lowering device is placed above the grave to lower the casket into the vault/liner base. After the grave side service the Lid will be lowered into the grave with our Picker trucks usually after the service has left should we have a special request where the family wants to see the grave filled arrangements can always be made. Both of our setups include greens to enhance the appearance of the setup.
Tent
Our 14x14 ft tents are part of any set up that has a Venetian, Stainless steel, Cameo rose, copper, or bronze vault. For any other product there would be a fee.
Disinterments
Please
contact us
for all information regarding disinterment's.
Vault Transfers
Please
contact us
for all information regarding Vault transfers
Displays
We at Alberta Wilbert sales are happy to offer displays to our funeral homes. We also pride ourselves in informing our customers about new display's that are available to them as well as the graphics that go with them to help explain the importance of Burial vaults.
Education
We hold several seminars and plant tours every year as well as do personalized training at individual locations to educate on not only the importance of a burial vault but also the intriqul differences of our product selection and complex manufacturing process. We at Wilbert are happy to provide this service.