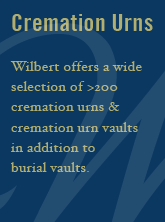 Personalization
Wilbert offers multiple ways to personalize a burial vault or urn vault with words, symbols, and images that speak of a singular spirit. Your loved one had a unique personality. The selections you make for the visitation and service should communicate that singular spirit. These choices ensure your loved one's memory is remembered for generations to come.
For over 40 years, Alberta Wilbert Sales is still providing the best residential and commercial septic and cistern tanks, along with our impeccable service to your project site.

Our main branch is located in Edmonton at 16910-129 Ave, with 13 acres containing our head office, research and design department, sales office, concrete batch plant and large inventory warehouse. We offer two additional locations in Calgary and Red Deer.
All our products carry our 20-year warranty and are CSA approved for 10 and 13 feet earth burial, generating 40 mpa strength with steel reinforcement. Alberta Wilbert Sales guarantees quality service and construction of all its products.
All of our tanks come with MK sulfate resistance product.

Our knowledgeable staff is highly trained on the new Dec 5th Alberta Private Sewage Systems Standard of Practice 2009, allowing our many certified wastewater contractors current information and terminology to help explain any wastewater requirements.
AWS has worked closely with engineering firms throughout Alberta on manufacturing their engineered requirements on time and delivery to the project site, ready for installation.
"If we don't know, we will find the answer and call you back that day."