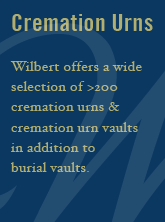 Personalization
Wilbert offers multiple ways to personalize a burial vault or urn vault with words, symbols, and images that speak of a singular spirit. Your loved one had a unique personality. The selections you make for the visitation and service should communicate that singular spirit. These choices ensure your loved one's memory is remembered for generations to come.
History of Alberta Wilbert
In 1962 Leonard Traub began his association with Monarch Concrete & Wilbert Vaults Inc. in Minot, North Dakota.
Leonard managed the firm for five years, and
moved to Edmonton, Alberta in 1967 to start Alberta Wilbert Sales Ltd.
The Wilbert franchise included all of Northern Alberta. In a rented 2400 sq. ft. warehouse, with a small 10-S construction mixer, and four used forms purchased from Dunlevy Wilbert of Grand Forks, North Dakota, the first asphalt Wilbert Burial Vaults were produced. The first year sales were $35,000 incurring a loss of $7,500. Leonard weighed 215 lbs, and was down to 165 lbs, which was considered the good loss. In 1969 five acres were purchased for a future move, and
in 1970 a 5500 sq. ft. building was erected. Various precast products were now being produced, and in 1973 another 7500 sq. feet was added.
During this time
Alberta Wilbert acquired the Wilbert franchise for southern Alberta
from Bud Guouldenhaur of Calgary.
In 1974 Wilbert Casket was formed as a co-op
, consisting of 13 funeral homes from Sask., and 12 from Alberta. The casket supply came from Elder-Wilbert for a short time, and eventually metals from U.S. suppliers and woods from eastern Canada. In 1975 the adjoining 5 acres was purchased, and the pool table and shuffleboard manufacturing business located on it was acquired.
The 44,000 sq.ft. building was completed in 1980 to accommodate the casket company, the pool table business, two crematoriums and company offices
. In 1985 the adjoining 2 1/2 acre parcel was acquired, and a 15,000 sq. ft. building erected for production of heavy precast products. A 400-foot track crane has an 80 -foot span with a 25-foot extension on either side. The extensions allow the plant to load highboys along the length of the tracks. The system has two 10-ton hoists and a 26-foot lift. All materials are loaded, whether it's concrete grave boxes or holding tanks weighing over 15,000 pounds.
In 1999 Alberta Wilbert acquired the Wilbert franchise for all of Sask. and Manitoba, with warehousing in Winnipeg.
Sask. is serviced with a distributor. We ship all the
burial vaults
from Edmonton to Winnipeg by rail, approximately 800 miles. In 2004 a small competitor in central Alberta was acquired, and the Wilbert burial vaults were added.
Our burial vaults are an important part of our business, and we have a dedicated staff to serve families in every aspect of our business.
Alberta Wilbert
16910 - 129 Avenue • Edmonton Alberta • T5V 1L1 Phone: (780) 447-2222 •
Email Us